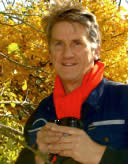 Chris Essex writes: I have recently added Bruce (G62-67) to the list of Distinguished OFs. For over 30 years he has been an ecologist, film maker, writer and artist. After leaving the College he went to Great Yarmouth College of Art and Design, followed by Leicester Polytechnic. He then got a job as a Production Assistant in the RSPB Film Unit, before joining the British Antarctic Survey in 1975 as a Biological Assistant. Since 1977 he has been self-employed. He was Wildlife Illustrator of the Year in 1983 and Bird Illustrator of the Year in 1984. He was elected President of the Society of Wildlife Artists in 1994, serving 10 years. He has also been Visiting Lecturer at the RCA.
After a gap of 30 years, Bruce will shortly be returning to Antarctica. To see a full article on Bruce click here
I'm also delighted to say that Bruce has kindly agreed to donate a copy of some of his more recent books to the College Library. For a full list of OFs authors see the Book section of Distinguished OFs.