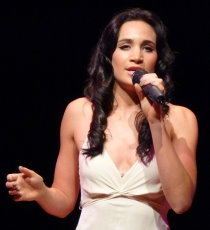 Bob Williams (Hon OF)always keeps a close eye on his former Brandeston protégés and has sent this update on a couple of them.
"Many will be aware of the steady, even meteoric rise in the musical currency of both Laura Wright (M02-08) & Ed Sheeran (BH96-02) but has it, I wonder, been noticed & noted anywhere that both young people actually TOPPED their respective album charts in August 2011 (Laura – with her debut solo album 'The Last Rose') & September 2011 (Ed – with his debut album '+', as reported in the New Musical Express, went straight to No.1 with sales of 100,000). Can any other UK school claim such a virtually concurrent achievement? Safe to say UNIQUE!!"
Bob also spotted that Ed and Charlie Simpson (S90-99) are both shortly to appear at the Anson Rooms in Bristol University in quick succession! Ed is appearing on Sunday 9 October and Charlie on Wednesday 19 October. This hot on the heels of Ed's stunning success at the BT Digital Music Awards ceremony, where he came away clutching the Breakthrough Artist of the Year Award. The event, at which Charlie Simpson also appeared on stage, was held at the Roundhouse, Camden in late September and screened on a national T.V. channel on the 7th October, 2011.