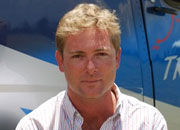 Ben Simpson (BH84-86) is clearly making his mark in East Africa. The Sunday Times Colour Magazine of December 30th 2012, carried a fascinating article entitled 'The Lion King – Force of Nature', whetting the appetite for Sir David Attenborough's eagerly awaited 6-part series 'Africa', quite possibly the great man's swan song in terms of this type of Natural History 'blockbuster'.
To quote from the the text of the article: Helicopters cost about £30 a minute and the BBC has hired two. Sleek, metallic blue, French turbojets – together with the best pilots in East Africa. One, Ben Simpson, is now regarded as a local hero after plucking seven stranded Ugandan soldiers off the slopes of Mt. Kenya in atrocious conditions.' (Click here to access the full story)
Ben's activities have been commented on in the past – he is Director of Helicopters with Tropic Air Kenya, and this is clearly another impressive feather in his cap.
The first programme went out on Jan 2nd and was quite magical, 'undoubtedly attracting impressive viewing figures'.