Michael Holden (G 52-59), organiser of the event, reminds everyone that this is a GUEST dinner, and he hopes that OFs will bring their spouse, partner or friends with them. The cost of the dinner will be £39 per head, which it's hoped you will agree is excellent value for a London Club well known for its excellent food and fine wines.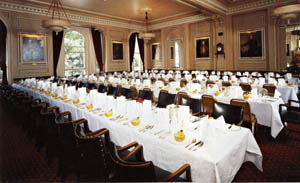 The dining arrangements will be in round tables of ten (unlike the photograph), and several people have already asked Michael to reserve whole tables for them so that they can recruit old school friends to sit with them.
Many application forms have already been sent out, but if you haven't received one, either download one from the website click here or please send an email by clicking this link to Michael Holden.
Before the dinner (7.30 for 8.00pm) the Society will hold its AGM in the Rugby Room at 6.30pm. The President promises that this will be as brief as possible. Members' guests will be able to meet for pre-dinner drinks in comfort while OFs are attending the AGM.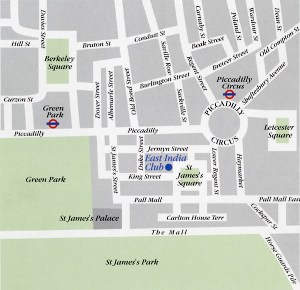 If you'd like to find out more about the East India Club, you can do so by clicking on this link to the East India Club Website.