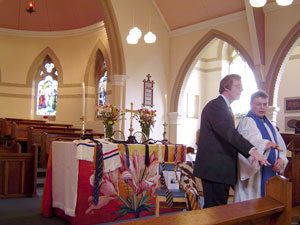 Norman occupied centre-stage in the Chapel, where the altar was decked-out with his squash racquets, ties, squares and blazers representing just a small selection of his sporting achievements. The photograph shows Tony Lawrence (Second Master) talking with Stephen Waters, the College Chaplain, just before the service.
Norman Porter, General Secretary of the SOF, gave a wonderful and very moving tribute to his namesake – click here to see the full text in PDF format. So moving was it that the congregation burst into spontaneous applause at the end.
This was followed by a series of anthems and other choral music from the College Chamber Choir, who performed quite brilliantly.
After the service, the Head hosted a fine buffet supper in Paul's Court. Mullie Borrett (Honorary OF) was in excellent spirits and was very much the centre of attention. In this photograph Mullie can be seen in the blue dress on the left (we're going to sack the photographer!).
Attenders
Norman and Margaret Mayhew
Ken Mayhew
Norman Dodd
Dudley Holland
Andrew and Margaret Wright
Chris Wright
John Waugh + 1
Jeremy Moyle
Guy and Mary Simpson
John Hulbert (Allhallows)
Mike Potter
Paul Gooderham
Andrew Currie
Jeremy Kemp
Felicity Bromage
John Rutter
Mrs Keeble
Peter Howard-Dobson
David Turnbull
Michael Bawden (Travellers HC)
John Waddell
Pat Howard-Dobson
Michael Wright
John and Wendy Pemberton
Bob and Mandy Williams
John and Angela Rankin
Norman Porter (also rep James Ruddock)
Gerald Western
Jimmy and Jane Mayhew
Chris Brain + 1
David Mason (rep Jim Blythe)
John and Glenys Maulden
Robin Anderton
Liz Martino
Michael Booker
Chris Garrard
David Mead
Michael Spencer
Malvern Tipping
Martin Irving
Clive and Brian Smith
Apologies
James Ruddock
Richard Overend
John Edwards
Rory Brown
Kenneth Mackenzie
Jim Blythe