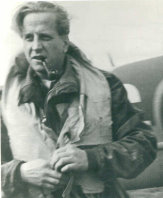 UPDATE from Richard Sayer "Wednesday's event was very well organised and set up – well done James. It was very well presented – well done Bill [Collard] and James. Delighted to see Michael Woods representing the family, Andrew Payn representing the College, and support from a number of OFs [Bernard Bridges, Ian Marsh, James Ruddock-Broyd, Bill Collard and Richard Sayer] and wives and a good few from the St Martin's lay members Club Wednesday. Your hard work James in developing a strong relationship with St Martin's archivist Michael Hellyer made it all happen. It was an honour to be present at a fitting remembrance this 75th year of the extraordinary bravery, commitment and sacrifice of Pickard, Broadley, Sampson and the Typhoon escort pilot. A nice touch that you included them all.
Remarkably, the day after the St Martin's event, at the OF Norfolk Supper last night I found myself sitting at the same table as Michael Powlesland (at Fram 40-45) and Alf Wolton (42-47) both of whom vividly recall the two visits Pick made to the College in 1942 and again on 19 November 1943 when he talked to the pupils, having landed at Parham airfield."
ORIGINAL ARTICLE : James Ruddock Broyd has organised a meeting at No 6 St Martin's Place WC2N 4JJ close to the Crypt Cafe of St Martin-in-the-Fields to mark 75th anniversary of the Amien raid and the death of Group Captain Percy Pickard DSO ** DFC (G26-32)
Please click here to see full details and a number of OFs are attending. There are just a couple of vacancies still left so please get in touch with James direct if you would like to go. You can read the full Distinguished article on Pickard here.