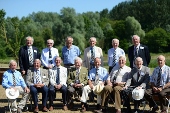 On Friday 29th June 2018 Brandeston Hall hosted a Garden Party on the terrace to celebrate the 70th Anniversary of the Prep School, now known as Framlingham College Prep School. The turnout was amazing and in glorious sunshine, exactly the same condition when the school opened in 1948. Guests were treated to cream teas, tours, music, poems, speeches and the cutting of the cake.
Among the many guests were those who were the first boys through the door in 1948 and Mr Jim Blythe (K48-54) entertained those in attendance with a spirited, racy and enthusiastic delivery. He was brilliant!
Eloise Dearling, a pupil at FCPS performed a poem she had written, 'How things have changed?' which was apt and well received and the new headmaster, Mr King was a perfect host together with heads of School, Ruby Boddy and Will Lamprell.
Explore this photo album by the College on Flickr by clicking here