Melbourne Australia OF Gathering in 2024
Date

3 February 2024

Start time

18:30

End time

23:00

Venue

Young & Jacksons, Chloe's Restaurant, Melbourne, Australia

Price

TBA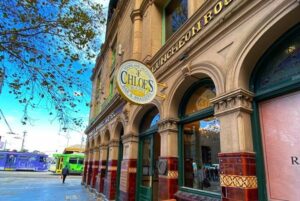 Mike Garnett (R53-55) write :  Chris Essex (K69-75) who coordinates activities with those living aboard, has advised that Richard Rowe (S65-74) and his wife Denise will be visiting Australia in early February and would like to catch up with other OF's.  I am trying to organise something for them in Melbourne.
I have been in touch with Richard who has provided a provisional itinerary but their time in Melbourne is brief – basically they are free for dinner on the evening of Saturday 3 February, following which they depart for Sydney.
Please consider whether you can join us at Young & Jacksons, Chloe's Restaurant (upstairs) at 6.30pm. Saturday 3 February 2024.
This is a few months away so anything can happen between now and then, however perhaps you can let me know if you are interested in receiving further updates regarding this plan.
If you receive this and would like to be kept informed, please respond preferably via email.
Add your own story
We encourage you to participate and send us your stories, whether news, events, ceremonies, or anything else you would like to share with your fellow Old Framlinghamians.